Features
5 modes of voice chat: Whisper, Normal, Shout, Group and Broadcast
You can use command or key to switch between them
Selected mode is shown in UI
Commands
/vchat - switch voice chat mode (permission: vchat)
Permissions
vchat.broadcast - allows broadcast mode
Available keys and their ids
, = 0
. = 1
/ = 2
; = 3
' = 4
Workshop UI mod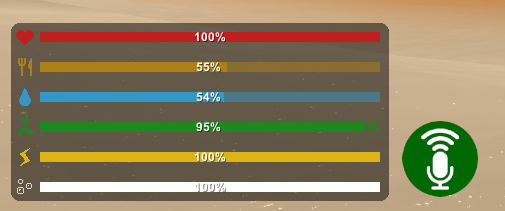 User Reviews
OMG so good
(*)

(*)

(*)

(*)

(*)

- Oct 11, 2021
I dont have to hear kids from 200m away
madstudio01
0 out of 0 people found this helpful
Good
(*)

(*)

(*)

(*)

(*)

- Jun 14, 2021
ThomyKD
1 out of 1 people found this helpful
Great Plugin
(*)

(*)

(*)

(*)

(*)

- May 17, 2021
Really nice plugin and really easy to use
lawluke
0 out of 0 people found this helpful
Nice
(*)

(*)

(*)

(*)

(*)

- Apr 14, 2021
mysticrp22
0 out of 0 people found this helpful
Epic
(*)

(*)

(*)

(*)

(*)

- Feb 7, 2021
Amaromontero
1 out of 1 people found this helpful
decent plugin
(*)

(*)

(*)

(*)

(*)

- Dec 30, 2020
The plugin lived up to expectations
Wolf4Life
1 out of 2 people found this helpful
Buen plugin
(*)

(*)

(*)

(*)

(*)

- Dec 18, 2020
Buen plugin para RP, muy recomendado.
jorgetoy04
0 out of 1 people found this helpful
Very Usefull for RP server
(*)

(*)

(*)

(*)

(*)

- Nov 5, 2020
This plugin is a must buy if you have an roleplay server. The whisper it s really good, bc you can talk with people about secret stuff and not fear that others hear you. Also, the broadcast its really cool for admins A bit expensive, but it s worh it tho.
depression
1 out of 1 people found this helpful
Good plugin
(*)

(*)

(*)

(*)

(*)

- May 29, 2020
this is very good plugin for rp servers. You should try it
ozankaya1035
1 out of 1 people found this helpful
Review
(*)

(*)

(*)

(*)

(*)

- Apr 15, 2020
Nice and Simple, reminds me of FiveM and is great for things like robberies
ConorJ
0 out of 0 people found this helpful